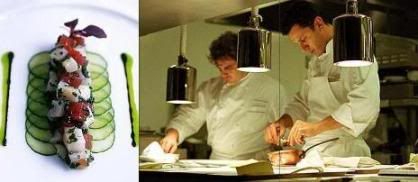 Img via The Modern
2010 Winter Restaurant Week is Monday-Friday, January 25-29 and February 1-5, 2010. Although most NYC chefs stick to their tried and true butternut squash soups, duck confits and panna cottas, luckily, a few of them take the opportunity to experiment with their menus. Restaurant Week is also a fantastic opportunity for you to try rare and/or expensive ingredients on the cheap -- all selected dinners are $35 so hurry for reservations.
1.
Brasserie 8 and 1/2
Fluke Tartare (Avocado & Sea Urchin, Mango Vinegar, Cucumber)
Slow Braised Goat (Chicken of the Wood Mushrooms, Polenta)
Blood Orange Mirror Cake (White Chocolate Mousse, Passion Fruit Coulis)
2.
The Modern
Braised Tripe with chickpeas and harissa aioli or steak tartare with quail egg
Saffron Tagliatelli with cider braised rabbit, wild mushrooms and baby zucchini
Hazelnut Dacquoise with milk chocolate chantilly.
3.
Industria Argentina
Mollejas al Verdeo (Crispy sautéed sweetbreads, scallion and white wine sauce)
Milanesa de Pescado (Skate wing milanesa, brown butter, cappers, cauliflower purée)
Bombón Suizo (Dulce de leche Argentinean-style Tartufo, warm dulce de leche sauce)
4.
Trattoria dell'Arte
Toredelli Bolognese (wild boar & porcini stuffed pasta with a three meat ragu, baby arugula)
Veal and Wild Mushroom Marsala (shaved black truffle)
Gelato
5.
Rouge Tomate
Gravlax (a Scandinavian appetizer)
Duck with kumquat and coriander (avail. Regularly)
Passion fruit curd
Also try:
Caviar @
Petrossian
US Kobe beef skewers, Fish shaped Japanese waffle ice cream @
Inakaya
Wild boar stew with soft truffle polenta @
Osteria del Circo
Salmon Kulebiyaka @
Firebird
Huitlacoche Crepes @
Maya
Raw Tuna Pizza @
Mercer Kitchen
Squab @
Mr. Chow