We went out with a few coworkers to celebrate the end of a project, and we chose
Les Halles
[pronounced: "leh al"], which is our go-to place for nice lunches on the company card - it's delicious and only a block away from the office, and there's no f-ing way we'd pay for it ourselves.
They are having a whole menu of new wild game specials until Nov 13, including wild boar, which has been on my to try list for a while. They also have pheasant. An entire Wild Boar entree sounded like too much to handle for lunch, so I got the wild boar terrine and the petatou de chevre (a tower of potatoes and olives with some chevre on top). I am now in a food coma. My coworker and I are looking for a nice quiet conference room to take a nap in.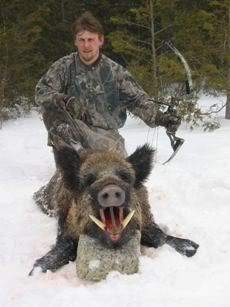 Those two look like they're having fun, no? This is what my terrine was made out of.
So now I can cross off "wild boar" in my list of foods to try, but honestly the wild boar terrine didn't taste any different from regular terrine. So next time you see it: pass.
I'd love to try their pheasant though.